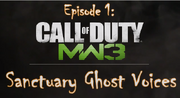 MW3 Sanctuary Ghost Voices is the first episode of Creepy Gaming. It was originally uploaded on June 22, 2012. It was re-uploaded with improved audio on February 10, 2013.
Description
Edit
"Today, in our first episode of "CREEPY GAMING" xMulletMiKEx brings to to the dark part of YouTube, as he discusses the Ghost Voices from the Sanctuary Map on Modern Warfare 3. He also discuss the origin of the voices, where they came from and how to trigger the easter eggs. SUBSCRIBE FOR MORE! Plenty more to come! Thanks for watching! Enjoy!"
Re-Upload
Edit
"Ahh, the memories... This is a re-upload of my very first episode of CREEPY GAMING, but not just another upload. I made a few minor changes. See if you notice... In this episode, I cover the "Ghostly Voices" from the DLC map add-on "Sanctuary" I explain where you can hear the voices, what they are saying, how to trigger them, and who they are from. If you haven't heard about this yet, then kick back, you're in for a suprise!"
Mike shows how to find the ghost voices on Call of Duty: Modern Warfare 3's Sanctaury map. The voices originated from a level within the Campaign.